"Hanging Hearts"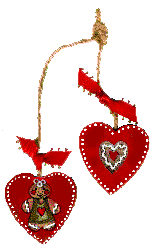 Materials:
	2 - 2" x 1/4" wooden hearts
	6" - 1/2" picot edge ribbon (red)
	12" Jute
	Plaid Royal Coat Decoupage Finish
	Gingerbread Fabric
	Ceramcoat Acrylic Paint-white and red
	Acrylic Wood Stain
	Toothpick
	Heat and Bond
	Glue
		
	
Drill small hole in top of hearts. Paint hearts red. Antique. Let dry.
Iron Heat and Bond to fabric. Cut out desired shapes. Iron to wood hearts.
Shapes can be applied to front and back of hearts.
Using white paint, dip end of toothpick into paint and "dot" dots around edge hearts.
Apply coat of decoupage finish to entire surface of hearts.
Glue jute or twine into holes in hearts.
Tie small piece of picot edge ribbon to each strand of jute, just above heart.
Great for wall decoration, hanging from pegged shelves, Christmas tree trim.